Crosstown Electrical & Data, Inc. has acquired the former Computer Service Company (CSC's) which has been performing Traffic Signal Maintenance services since 1979.  Crosstown has maintained all of CSC's experienced technicians and is excited to offer 24/7 Traffic Signal Maintenance services.  Crosstown employs professional IMSA certified traffic signal technicians and a maintenance service operational staff consisting of dispatchers, billing specialists, customer service representatives, a purchasing agent and management team.  CSC had a proven track record of providing quality work to their customers for 40 years and Crosstown is proud to bring this experience and skill to our Team.  Our Traffic Signal Maintenance Division has the full support of all other Crosstown divisions to include Construction, Fiber Optic Communication, and Intelligent Transportation Systems such as CCTV, VDS, Smart City communication, etc. and we have the staff and resources available to support your city for any need that arises.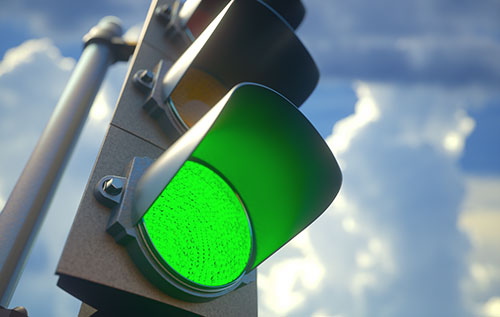 Crosstown supports the International Municipal Signal Association (IMSA) training procedures with all of our technicians obtaining advanced certification through in-house training and participation in IMSA certification courses.  We have IMSA Certified Technicians Level I, II, and III on staff.  The specialized experience and professional competence of our technicians allow us to provide the best possible service to our customers.  We strive to focus on safety and quality of work and do our best to ensure every project runs smoothly and exceeds the owner's expectations.  Crosstown will always maintain communication with the agency it is working with to provide updates and notice of any issues.
Crosstown provides vehicle(s) to our technicians which are equipped with permanently mounted arrow boards, warning beacon/strobe lights, traffic cones, construction warning signs, computer laptops for programming, maintenance and testing of traffic signal controllers and various equipment and communication equipment for dispatch.  Hydraulic bucket trucks capable of reaching a height of 28 feet from the roadway surface are also available as needed as well as cranes, backhoes, boring equipment, etc. should the need arise.
Routine preventative Traffic Signal Maintenance Services are designed to minimize the incidence of outages and malfunction, reduce complaints, and extend the useful life of the traffic signal equipment and can include, but is not limited to furnishing of all tools, equipment, apparatus, facilities, labor work and material to perform all work necessary to maintain traffic signal, flashing beacon, and other facilities.
Scheduled Repairs may be performed after investigation of reported malfunctions, failures, or outages of a traffic signal system.  This may include equipment or components such as Incandescent lamps, Light Emitting Diode (LED) signal faces, Conflict Monitors, Internally Illuminated Street Name Sign Tubes, LED Illuminated Street Name Signs, Signal Safety Lights, Load Switches, Detector Amplifiers, Transfer Switches, Flasher switches breaker switches, Ballasts, starters, sockets, fuses, fuse holders, photoelectric cells, signal and safety light wiring in poles, etc.
Emergency Response Work is available twenty-four hours per day, seven days per week, including all holidays.
We can furnish temporary flashing beacons and other portable replacement equipment for non-operational traffic signals as needed.  Our temporary spare equipment will be equivalent to the component being replaced in manufacture, make and model.  Crosstown can provide and be equipped with spare parts sufficient to place the signal system back in operation for ordinary trouble calls, including sensing devices for induction loop detectors.  All permanent or temporary changes of controller mechanisms will always be done with prior approval from the owner, unless directed otherwise.  Crosstown can provide traffic control/lane closures that conform to Federal Highway Administration (FHWA) and California Manual on Uniform Traffic Control Devices (CAMUTCD).
Quality Assurance:  Crosstown maintains a quality assurance program for quality control and identification of continual service improvement opportunities.  Methods include the review for accuracy of all service reports and invoices, periodic independent site evaluation and review sessions with assigned personnel.   Crosstown has its own test lab and can also provide CMU/MMU repairs, traffic signal cabinet modifications and customizations, cabinet painting, traffic signal cabinet repairs and provide third-party testing and certification if required.
Maintenance Services Offered:
24/7 Traffic Signal Maintenance
Routine/Preventative maintenance
Written inventories
Extraordinary maintenance
Street and Parking Lot Lighting
Cabinet and conflict monitor testing
Pole and cabinet knockdown repair
Intersection construction/ traffic signal upgrade projects
Repairs to wiring
Night surveys of lighting fixtures/illuminated street name signs
Upgrades to LED fixtures
Additional services available, as requested.
Traffic Signal Upgrades and Construction Services:
Furnish and installation of flashing beacons, pedestrian signals
Furnish and installation of Illuminated street name sighs
Furnish and installation of cabinets and controllers
Furnish and installation battery backup systems
Furnish and installation of pedestrian signals
Furnish and installation of poles
Furnish and installation of foundations
Furnish and installation of video detection systems and CCTV
Furnish and installation of fiber optic and copper cable
Splicing, termination and testing of fiber and copper cable
Furnish and install of wireless radios and communication equipment
Additional services available, as requested.
Current/Past Cities Serviced for Maintenance:
City of West Hollywood (Street Lighting & Flashing Crosswalks)
City of Norwalk

(Street Lighting)

City of Maywood (21 Intersections)
City of Azusa (64 Intersections)
City of Chino Hills (53 Intersections)
City of San Dimas (36 Intersections)
City of Downey (101 Intersections)
City of Bell (33 Intersections)
City of Laguna Hills (49 Intersections)
City of Hesperia

(25 Intersections)

County of Orange (68 Intersection)
City of Los Alamitos

(21 Intersections)

City of La Palma (21 Intersections)
City of Hemet (41 Intersections)
City of El Monte (73 Intersections)